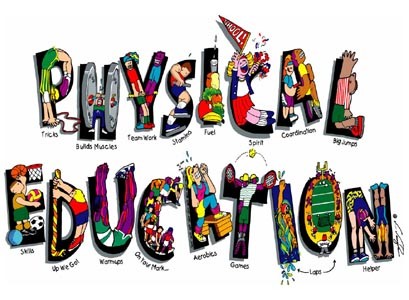 Dear Parents,
We are anticipating a terrific year in Physical Education. We have a curriculum that is developmentally and individually based. Students will perform developmentally appropriate activities for each child's maturation and ability level. Students will be encouraged to be creative and cooperative. We believe that this approach will allow students to obtain an appreciation for many different and diverse activities and a more health conscious attitude for life.
We will be working very closely with the academic instructors so that our program will be integrated with all learning areas. We hope this provides students with a well-rounded educational experience.
You will find included with this letter more information regarding such things as: philosophy, rules, procedures, discipline, dress suggestions, medical excuses and more.
We have included with this letter a physical education schedule so that you may know when your child is in physical education class. If you have questions and/or comments, please, don't hesitate to contact us at 467-6550 ext.6. Thank you for your support and flexibility as we strive to provide our students, your children with the highest quality educational experience possible.
Sincerely,
Lisa Cohron, Daniel Adamson
PHILOSOPHY:
We believe every student should enjoy being active and should feel success and achievement. To reinforce this belief, the Physical Education Department has established a sequential motor development program. This program is designed to develop the mastery of fundamental motor skills and beginning sport skills. Individual learning styles and needs are incorporated into this program. In this, we hope that physical education will enhance the complete educational experience and the development of each child through a program that encompasses a variety of physical activities integrated into the school year.
PHYSICAL EDUCATION RULES:
1. Always listen.
2. Always treat others the way you want to be treated.
3. Always do your best.
4. Always have fun.
CLASS PROCEDURES:
Students are expected to enter the gym quietly and sit in line with their class. Once instruction begins students are expected to participate in all activities. Instructions consist of units that are broken down into large and small group practice times. Individual practice times are provided through station time and centers.
EXCUSES:
State law for grades K – 8, requires physical education. Therefore, parental excuses are needed for days of missed activity. Medical excuses are required when more than two days of activity will be missed. Please, alert the Physical Education Department to any medical challenges that your child may have such as: asthma, diabetes, cerebral palsy, heart condition, allergies, etc. This will help us to insure that your child's needs are met.
ACCIDENTS;
Students with injuries are sent to the school nurse for treatment. In case of serious injury the office will be notified by phone. The nurse and office will take appropriate measures to assist in the care of the injured student.
DISCIPLINE:
Students will be given a "time out" for minor infractions of the physical education rules. The physical education teachers determine the length of the time out. Students who are continually placed in time out will receive letters and/or phone call to parents. Continued placements in time-out will result in the student being sent to the office. All major rule infractions will be sent directly to the office. (Please refer to the Code of Conduct in the student handbook for clarification.)
GRADING:
Student's grades are based on individual assessment of motor skills and knowledge of skills being taught. Each student will be assessed according to his/her own ability.
DRESS SUGGESTIONS:
Students need to be dressed for movement. Tennis shoes or gym shoes are best for physical education. Students may bring an old pair of tennis shoes and keep them at school. Students in the 3rd, 4th, and 5th grades may not be allowed to participate in some games if they are not in appropriate shoes.
Girls who choose to wear dresses should wear shorts or bloomers underneath. We will be holding classes both in the gym and outdoors. Please, consider the weather when dressing for school.
WEATHER CONCERNS:
During excessive cold students will not be allowed to go outside (temperatures below 45 – 50 degrees).
EQUIPMENT:
Equipment and facilities should be used with care and in a correct manner. Students should remember that everyone must use the same equipment and that equipment cannot easily be replaced. Students should also remember that serious accidents could happen when instructions are not followed.